People often ask me how my husband Devon and I set our lives up to be able to travel. It's an understandable question, since Devon and I spent most of 2015 traveling, and we have lived out of our truck for the last year. Unfortunately, it's not an easy question to answer.
I suppose the answer is that it's an ongoing effort. We made the decision to hit the road about a year and a half before we did it. Here's what we did to prepare:
We built up a business that could go mobile.
Devon had already started up his business doing photography, fixing computers, consulting, and building and maintaining websites. Leading up to our departure, I joined him in the business, providing content creation, SEO and Adwords optimization. When we left, he closed down the location-specific services and kept up the mobile-friendly web and photography work. There are many options out there these days for location-free jobs.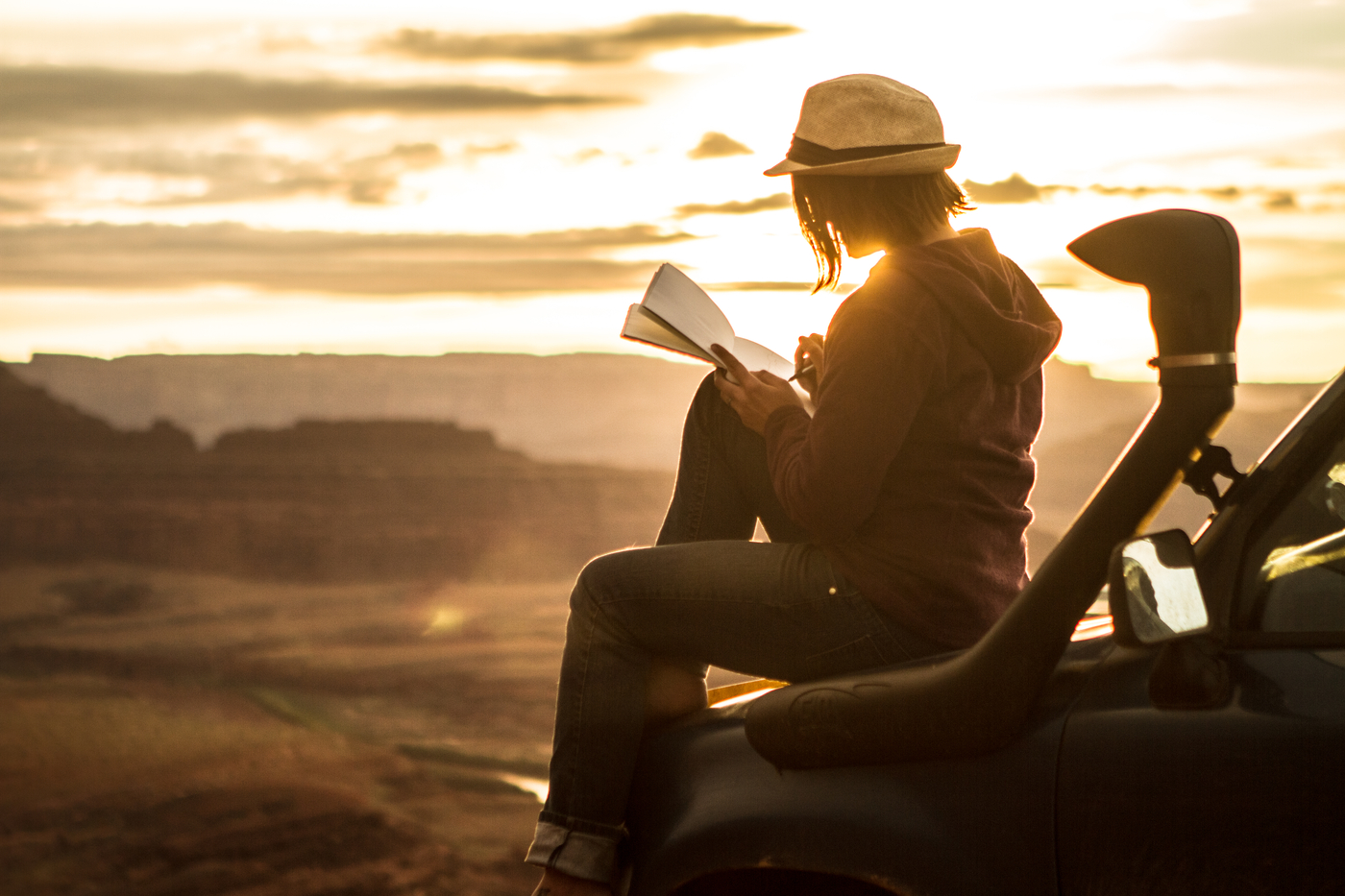 We saved every spare dime.
We wanted the freedom to explore without being tied to our computers all the time. The only way to do that was to budget our spending on the road and build up extra savings. I have to mention here too, that we had previously gotten rid of all of our debt, so we had no monthly payment requirements. No credit, no loans.
We dumped all the baggage.
You don't even realize how much stuff you acquire as you're going about your day-to-day life. When Devon and I moved into our apartment together after our wedding, I had one tub of keepsakes, one tub of clothes, one tub of kitchen stuff, and my outdoor play gear. After three years of living there, we had every corner of the apartment full.
Leading up to our departure, we gave away every piece of clothing, every kitchen gadget, every piece of furniture, and every tech tool that we were not going to need anymore. A small selection of things did get packed away into storage, but the basic rule was that if it hadn't been used in the last year or we didn't see needing it either on our trip or directly after, then it was dumped.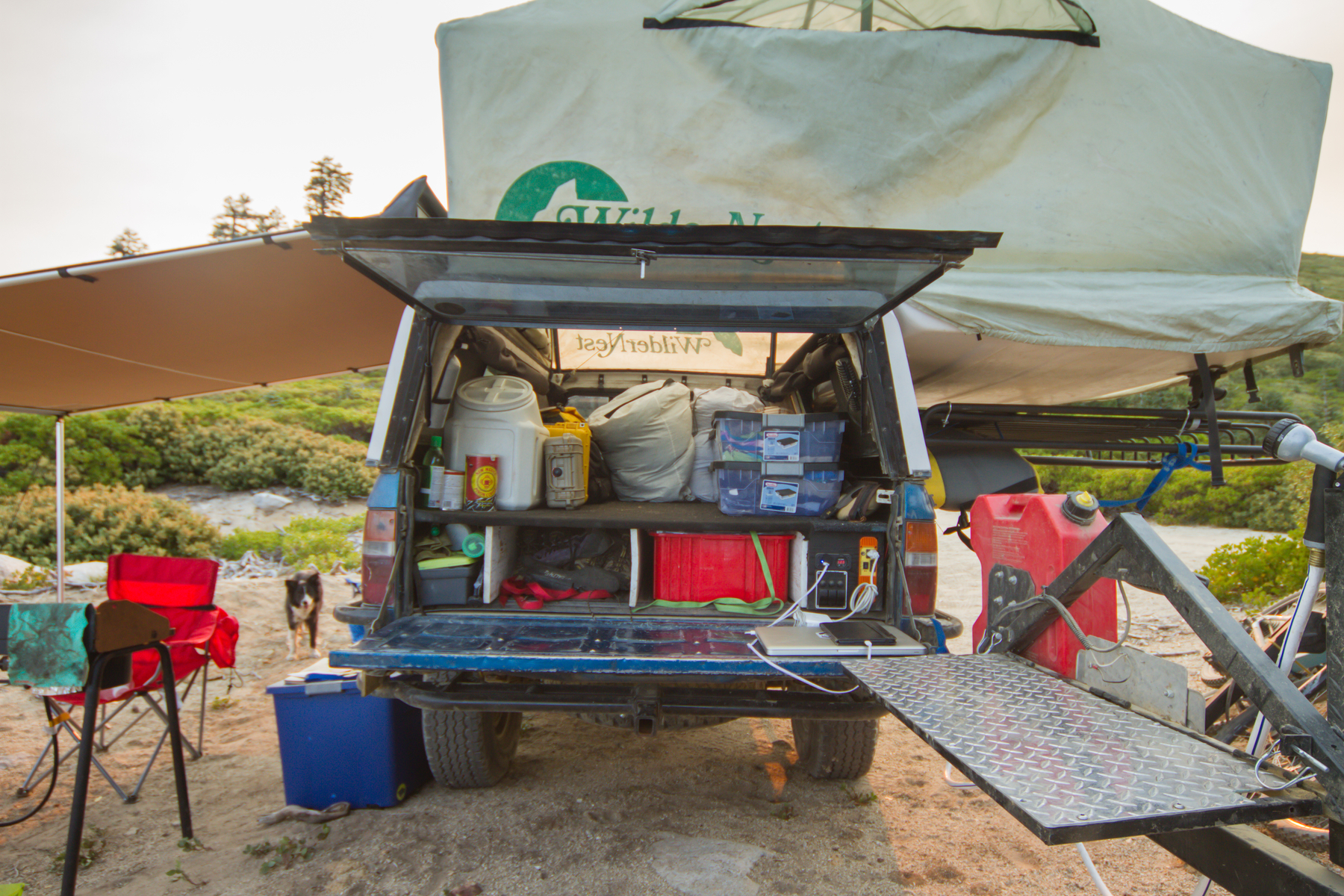 Included in "baggage" were our $140 a month smartphone plans and any other subscriptions we had. From here on out, our form of communication with the world would come through internet, which would be picked up at libraries and coffee shops.
We replaced everything that we could on the truck.
Toyota pick-ups are already known for their reliability, but this one had already been ridden hard, so we (and by we, I mainly mean my husband) did an overhaul. New engine, rebuilt transmission, crawl box transfer case, new axles, and a rear locker.
We converted our truck into a home.
This started with water. Devon put together a water system with 15 gallons of storage, an inline UV sterilizer, a heat exchanger that runs through the engine, and a spray nozzle that would allow us to access the water for cooking or showers. Then we ran more then 350 feet of wire to run our ARB off-road fridge, a power inverter, and all other accessories off of a 300w Kyocera solar panel. Devon put on the finishing touches by making a "kitchen counter" for me and packing in a nice Camp Chef stove.
Next, we took 1995 WilderNest topper, which is a topper that flips out to the side into a tent, and rebuilt it. We replaced its rotted wooden frame with steel, sanded and recoated it, and patched and re-waterproofed the tent. Then packed a tarp for extra measure, and put our "spare bedroom" (ARB awning with a zip-in, fully sealed room) on the side of the truck. It was my job to pack all of our necessities; clothing, cooking supplies, a small "pantry," first aid, camera and computer gear, our dog Saydie's stuff, and – of course – all of our outdoor summer sports and aerial gear. (Minus the kayaks, which there was sadly not enough room for.)
Then we hit the road!
We cast aside our fears and went for it! Moving forward, though, we are exploring options for keeping a nomadic lifestyle throughout our lives. We want to create a culture in our marriage, and someday our own family, of adventure. This trip, for us, is not just a fun season in our lives. It's the beginning of a lifetime of adventure. We don't have it all figured out, so I'll keep you updated here as we try to follow the adventure! Also check out Devon's blog – he talks a lot more about our truck and all our great temporary homes!