Many artists and adventurers have had to brave the storms to see their dreams fulfilled. My dream was dancing on the wind.
I dreamed of rigging from this beautiful vista for many months. Mount Farwell has been a favorite camping spot for my husband and I since we were dating, and for good reason. From the 10,880 foot peak, you can see the Continental Divide, the Zirkel Wilderness, Pearl Lake, Steamboat Lake, and even more than 100 miles to the Flattop Wilderness.
With fall in full swing and the first few snows of the season already done, we felt that it was time to make a move on this one. Devon's cousin Alden came up, as well as our good friend Don. Don rolled his eyes at the task at hand, but he has helped us and been our companion for many different adventures, from climbing multi-pitch rocks and icy waterfalls to kayaking a raging river and shooting long-range rifles. (In fact, he's the one to blame for our climbing addiction.) So, while not understanding this new addiction, he was naturally game to help. Alden, being newly moved to Colorado, was up for any adventure and didn't even flinch at the coming storm.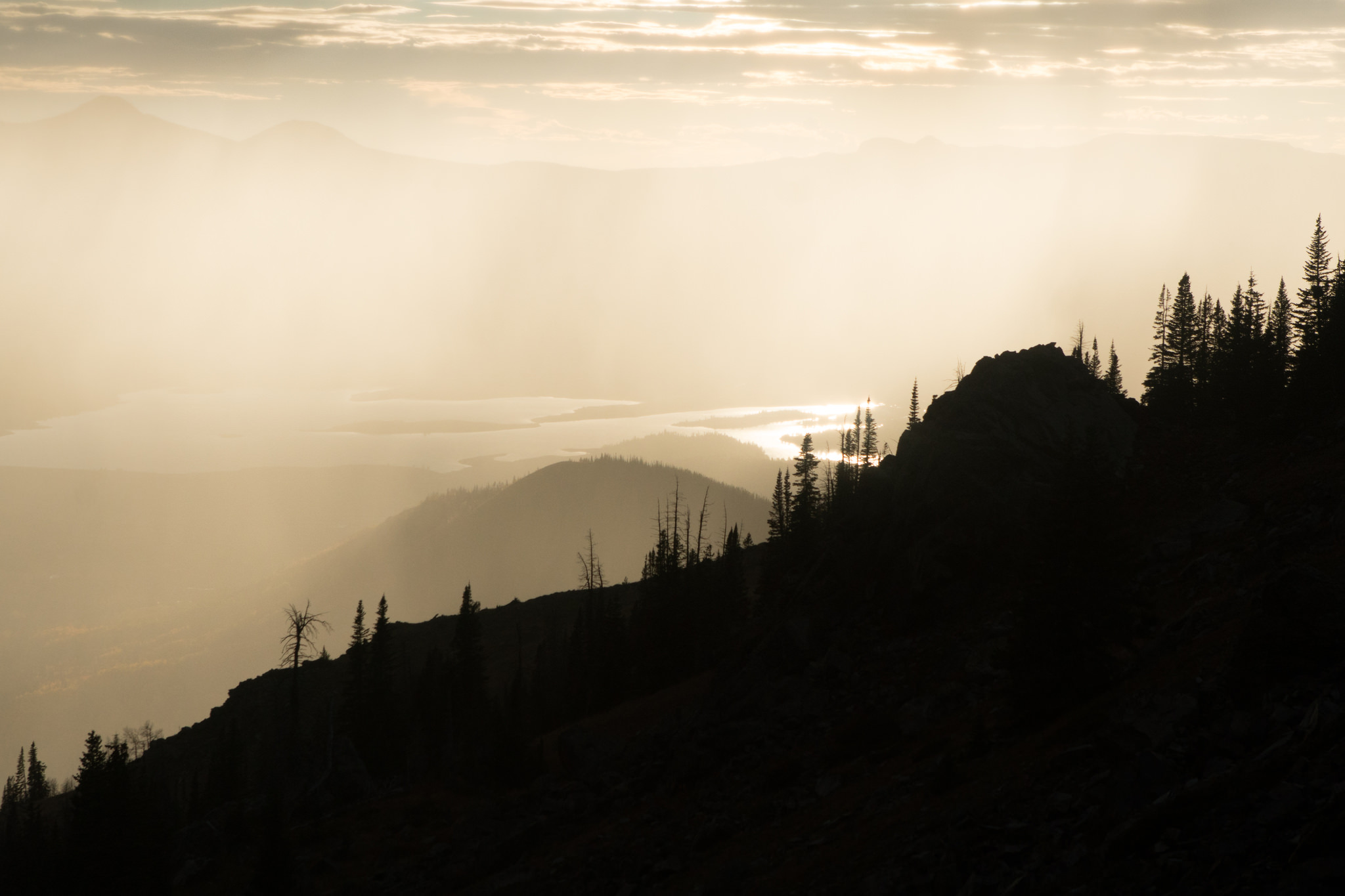 The storm was pretty foreboding. Having gotten to the top of Farwell in the early afternoon and scouted a spot in sunshine and crisp early October air, we happily set up camp. It was after we got our tents in order that we saw a menacing wall of black clouds forming on the horizon. The wind was whipping wildly against our faces and the clouds were rolling our way with increasing speed as we made our way to our scouted spot.
It was looking so bleak and dark that we thought we might not get a shoot in after all, but we decided to set up anyway. We thought it might blot out the sun and drive dark clouds straight into night… on the other hand, the sun might, just might, come out from under the clouds for a victorious and glorious sunset.
So we bent our heads against the chill wind, Don and I setting up an anchor downhill while Devon set up an anchor uphill and Alden ran ropes between them. For both anchors, we used boulders as anchors. While we were able to simply walk up to the lower boulder, Devon had to climb up a large boulder to set up an anchor on a bulbous outcropping.
Despite the storm now stretching on every side of us, we suffered no more than a light drizzle and numb hands. Amazingly enough, the sun did break through, lighting up the rain around us and casting the brightest and most complete double rainbow any of us have ever seen!
After admiring the double rainbow and completing our rigging, I took off my rain shell, jacket, and outer shirt as Devon and Alden hoisted my silks up a pulley to the center point of our highline.
It had stopped drizzling, but the wind was so strong that as I began to climb to the top of my silks, I felt as if I were climbing sideways rather than up. Actually, it felt as I weren't climbing at all, but instead wrestling a giant unruly animal.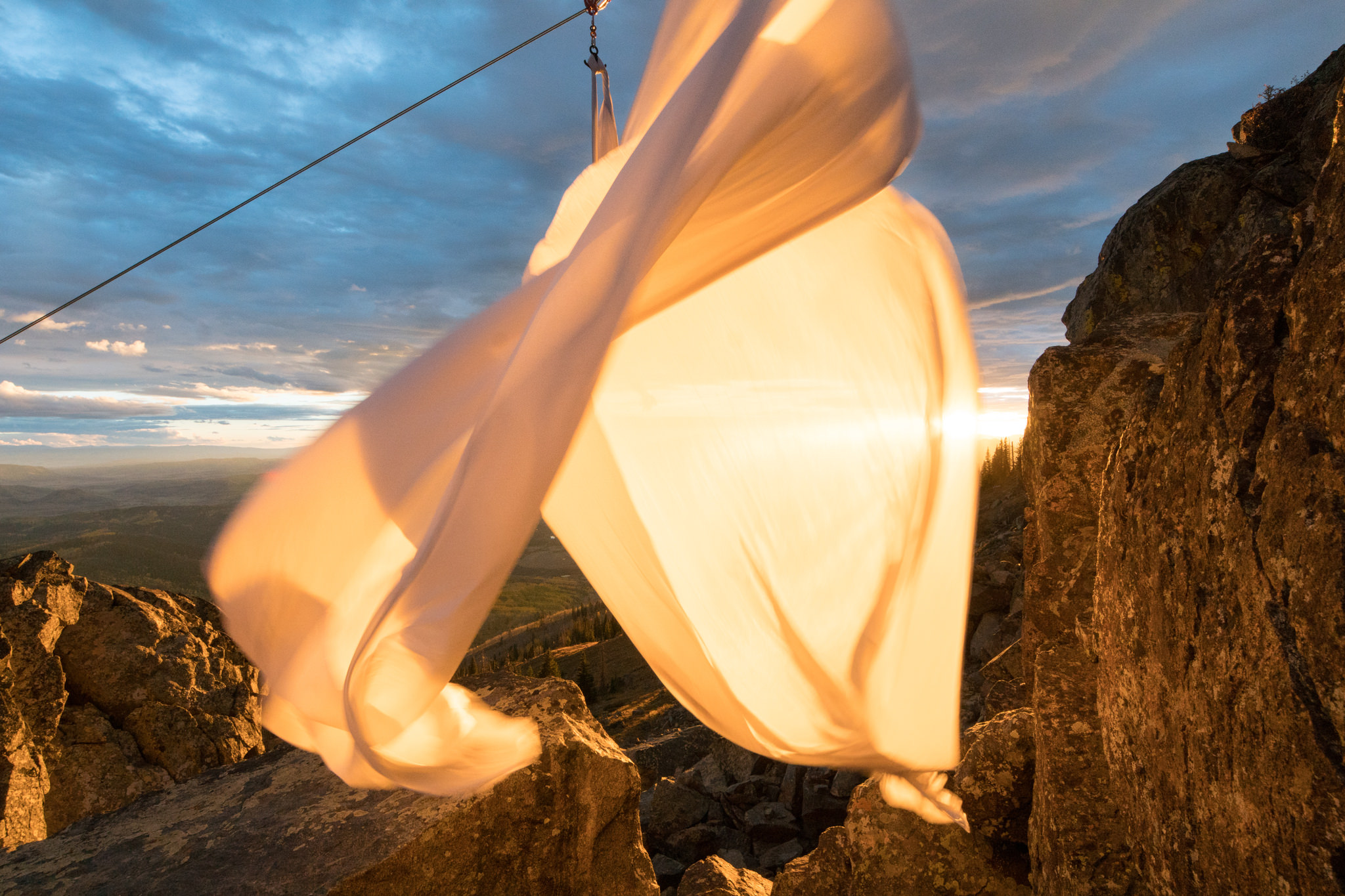 The effort did have me warmed and flushed by the time the sun began to cast perfect golden rays across the sky and Devon was ready for photos. Due to my ability to train more consistently recently, I felt better prepared for this dance than I had for any other. Between this and the feeling of literally gliding and cutting through the air against the force of the wind, I was filled with joy. I felt as though I really were dancing on the wind and with it, trying to harness it like a sailor, and I was astounded at these amazing circumstances God gave me as a gift.
Though there was the real possibility of this rig being a bust as we set out, and though many other rigs have been busted by weather, we pushed on in faith that the sun would show up and paint the sky… I felt so much God's blessing and love when it turned out better than we could have hoped! How wonderful is His love, to give me a passion, a body capable of pursuing it, a husband and friends supportive of it, and such a mesmerizing canvas!
For Devon's perspective on this special adventure, take a look at his blog too!